---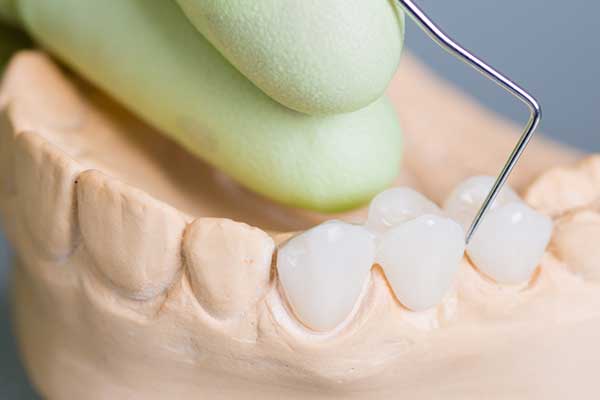 If a tooth has more extensive decay, a dental crown may be the ideal aesthetic and functional restorative solution.
---
Choosing to have a crown placed can preserve the natural tooth, which is always the goal as preserving the natural teeth helps maintain the supporting bone structure and stability of the surrounding and adjacent teeth.
The first step in the process is to take an impression that will be used to make a model of the teeth and bite.  This allows the crown to be made to look and function like your natural tooth.  The tooth will then be prepped, with the decayed areas being removed. An impression of the prepped tooth will be made so that the final crown will fit properly when it is placed.
Sometimes the final crown can be placed on the same day but other times a temporary crown will be placed while your final restoration is being created. Crowns often last a lifetime with proper care and oral hygiene.
---
There are four common types of crowns:
---
Ceramic
---
This type of crown is often used for teeth that are visible when smiling as they are made from a porcelain-based material that retains the look of your natural teeth.
---
Porcelain Fused to Metal
---
These crowns are known for their strength and durability while also allowing for a natural-looking restoration.
---
Gold Alloys
---
These may be used when more strength is needed, particularly for patients who grind their teeth at night.
---
Base Metal Alloys
---
These are strong and corrosion-resistant and are often used when there is less existing tooth structure available to support the crown restoration.
Same Day Crowns
---
Computer Aided Design (CAD) and Computer Aided Milling (CAM) offers advanced treatment options with less waiting time for a restoration. Depending on the procedure(s) being performed, your dental restoration(s) may be able to be placed on the same day or next day instead of the usual wait of one to two weeks or more. Using a special scanner the office can take a digital impression without using traditional trays, improving patient comfort. The restoration(s) is then designed using advanced computer 3D technology that can analyze the interaction of the new restoration with your other teeth. A new crown can be milled out of a solid piece of tooth-colored composite material providing strength that may surpass that of many crowns produced in a dental lab. Advancements in materials and technology have provided many options for great restorations that can both look great, provide superior strength compared to other restorations, and reduce the need for multiple visits to the office.
---
Dental Bridges
---
Missing one or more teeth is common for many people. The ADA reports that on average adult patients may have three missing or decayed teeth. Fortunately, there are a number of solutions to replace missing teeth, including dental bridges. 
A bridge may be used to restore an area with one or more adjacent missing teeth. A bridge has two primary components. The abutments (or supports) for the bridge are created by placing a crown on either a natural tooth or an implant. The synthetic tooth that replaces the missing tooth is called a pontic. 
In the case of one missing tooth, the two teeth on either side will be prepped for crowns and the missing tooth will be replaced with a synthetic tooth that is connected to the crowns on either side of the missing tooth. In the case of several adjacent missing teeth, one or more implants may provide the abutment.
---
There are four main types of dental bridges:
---
Traditional Dental Bridge
---
This type of crown is often used for teeth that are visible when smiling as they are made from a porcelain-based material that retains the look of your natural teeth.for the missing teeth.
---
Cantilever Bridge
---
This type of bridge is similar to a traditional bridge, except that the structure is supported on only one side instead of both sides. This can cause the restoration to act as a "lever" and may create additional stress on the supporting tooth, causing it to be more likely to loosen or fracture.
---
Implant Supported Bridge
---
Instead of using existing teeth to support a bridge, a dental implant may be substituted to provide support for one or both sides of a dental bridge. This is a popular option that can provide a very secure restoration. This solution is particularly helpful when there are several adjacent missing teeth.
---
Maryland Bridge
---
This type of bridge is supported by a metal structure which is cemented onto the back of existing teeth. While not as strong as a traditional bridge, it can preserve the tooth structure of the adjacent teeth by avoiding the use of crowns for the abutments. It may not stay in place when heavy forces are placed on the restoration (such as biting and chewing) and does add pressure to the supporting teeth.
Contact our office to learn more about your restorative options and achieve the smile you have always wanted.